Having never been to a music festival as huge as T in the Park, I was unsure about what to expect, even though incredibly excited about going. Now that I'm back I can say: this was the highlight of my summer, a weekend full of music and positive emotions that I'll remember for a long time. I already have thoughts about which bands I'd love to be a part of the next year's line up and hopes for a chance to enjoy it. But as it will take a while, the moments of this year are something to recollect and share.
While the ride from Glasgow to Balado wasn't at all boring (we were mostly planning the upcoming days), getting from the bus stop to the campsite took us ages and I now have a giggle remembering myself impatient and annoyed, dragging the bags in the crowd of people. By the time we had our tent set up I was already tired, though it was all worth it. We were lucky enough to have a bunch of fun guys for neighbours so ended up tagging along quite often.
Something we realised pretty quickly: our tent was tiny. I'm not a huge fan of camping in general, so this made it even worse, but once again – it was worth it. After all, there's not much to do in there when a lot is going on outside. Another realisation that came a bit too late: Scottish sun can be harsh, and I do actually need sunscreen. I'm quite sunburnt now and it's painful – though I will be happy when the redness turns into a proper tan.
All the days are now like one long adventure in my head, I have to give it some time when asked about one of them specifically. Our mornings were spent hanging out in the campsite, chilling out with beer (not something I'd normally do in the morning – but exceptions have to be made, especially as it was so hot!), and then in the afternoons we'd go to the arena and immerse ourselves in good music.
On Friday, we saw Imagine Dragons, and although they didn't play my favourite song,
Demons
, it was still one of the best shows. Then Everything Everything followed, and Rudimental. Not finding the latter enjoyable at all, we left rather soon – and were glad we did, as Emeli Sandé was incredible. Though I didn't see her full act either because wanted to hear Of Monsters and Men – slightly regretted this since didn't like them live as much as I thought I would (maybe just because I was by myself though). Having planned to see Phoenix, I went to The Courteeners with a couple of guys from the campsite instead, and finally enjoyed a great performance by Mumford and Sons.
Saturday was quite relaxed and we got to listen to a few bands we hadn't even heard of before, such as Fake Major and Sunshine Social. The latter actually clashed with British Sea Power but I was convinced to stay and now remember their act as one of the best. Just listen to
Trust
and you will get what I mean. The View and The Lumineers were also absolutely wonderful, though I'm unsure how much this was affected by the people I was with as opposed to music. Oh, and guess what? After being overly concerned about seeing D for the second time after breaking up with him, I wound up going to see Daughter with him and his sister, and had a great time. Who knows, maybe we will stay friends. For the first time I really believe this to be possible. Another band I liked a lot was Frightened Rabbit – can't believe I didn't give them a listen earlier! And then the evening was concluded by Alt-J with their enticing melodies. I vividly remember sitting on L's shoulders when the band (and the crowd) were singing
Breezeblocks
– that's how all concerts should be watched! We made it to the very ending of Rihanna's performance as well, so while I'm not particularly fussed about her, I can still say I saw her (yay!).
Listening to The Lumineers... kind of
Sunday was incredibly promising, and it didn't disappoint – well, maybe apart from Tom Odell, who only performed two songs because of his chest infection (and even during those two it seemed like the guy is in pain). Bastille, Hurts, and then Two Door Cinema Club – all were good, though Hurts was probably the band I loved the most in those three days: their songs are all still in my head, and standing in the front watching Theo Hutchcraft delivering such a powerful performance and driving everyone crazy I wanted it to never end. I had missed four of their concerts before, so was overjoyed to finally be able to sing along. We also went to see Lucy Rose (again, no favourite song of mine... argh, I wish she had sung
Shiver
!), and Stereophonics, who were pretty much a filler for me, but that's most likely because I never really listened to them. The culmination of the weekend was The Killers, and I believe it goes without saying that they were brilliant.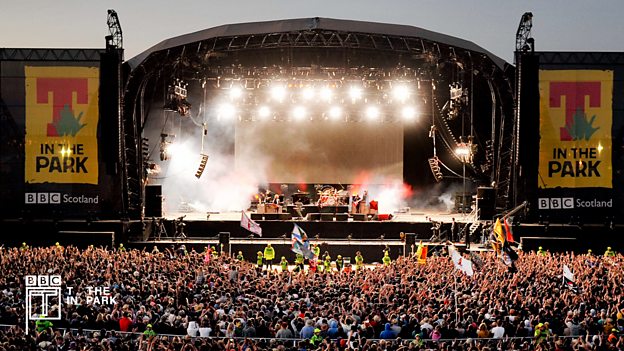 The main stage via BBC
Yesterday afternoon we came back to surprisingly quiet Glasgow, and after four days spent basically in dirt, I had the best shower in my life. Then a meal. Afterwards, sitting on my bed and not knowing what to do, I already wanted to go back. Be wild and free and leave the real life behind, because that's what T in the Park was for me.